Project description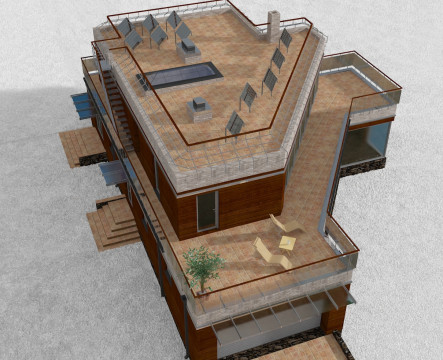 Floors:

2 and underground floor

Total area:

360 sq. m.

Walls:

autoclaved aerated concrete

Foundations:

reinforced concrete

Structural design:

monolithic reinforced concrete frame

Chief project architect:

Vladimir Glazkov

Chief Structural Designer:

Valery Kozlov
---
The project is made for the site on the shore of the Kungsbacka fjord, which refers to the Kattegat Strait in the North Sea. In fact, here, on the southern shore of the North Sea, located Sweden resort area, where they build homes for living and recreation on the beach.
A project Atran began in 2014 from a project Ebro, that pleased to the client and must serve basis for a new house in place of old one. However requirements of local community to storeyedness, to the height and even to the form of house did not allow to do something alike, and a house became a height less than, although anymore on sizes.
To these places the project at home with a flat roof more exotic, but the locals – at home with a pitched roof. Most are wooden houses, and construction with monolithic frame is also quite unusual. However, the contrast of the whole against the background of the local homes project looks at home with terraces and panoramic windows – the newcomer from the Mediterranean countries.
---
Such was the problem initially – to make the design of the house with a flat roof, with terraces and panoramic windows, while remaining within the European standards for heat saving. I must say that the Swedish construction standards for this demanding terrain Ukrainian almost doubled, so the material of the walls and flat roofs were selected appropriate, and the orientation of the panoramic windows to the south has helped to reduce heat loss.
An even more difficult task was because you wanted to keep the existing basement, the house is located above it. To design a new home should not put pressure on the basement walls. This we have achieved with the help of a monolithic reinforced concrete frame columns, which support the ground dot placed at a safe distance. One of the convenient features houses with flat roofs – a plasticity structural layout: columns can be placed where you need it and where it is desirable.
---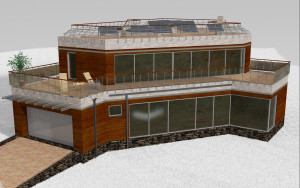 Facades of terraced houses easily become dynamic and fast. Lines terraces with fences reminiscent of silhouette of the sea yacht, and this impression reinforces the cladding board, emphasizing the horizontal facade. Panoramic windows complement the linear facades large glass inserts.
---
Atran river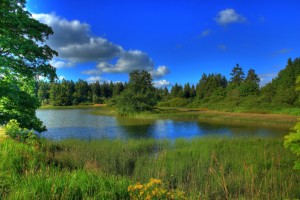 Atran – river in Sweden, 243 kilometers long, flows into the Kattegat.Along the river is a road built over a thousand years ago. In the Middle Ages the coast Atran river there were several battles. Atran River is a spawning salmon, and town Fellbakka on it has been a favorite vacation spot of the Swedish actress and Hollywood star Ingrid Bergman.
---