Project description
Floors:

1

Total area:

182 sq. m.

Walls:

Porotherm blocks

Foundations:

reinforced concrete

Structural design:

load-bearing walls

Chief project architect:

Vladimir Glazkov

2Leading architects:

Alice Flore

Chief Structural Designer:

Nataly Ostrovsky
---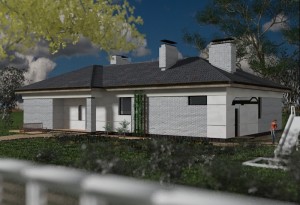 The single-storey modern home project was implemented for the site in the new residential area of ​​the Kiev region, from the north to the land plot adjacent street.
---
Orientation windows master bedroom and the living room – on the south, the other two bedrooms – east. Terrace is oriented to the south, the direction of the sun, and out into the courtyard.
---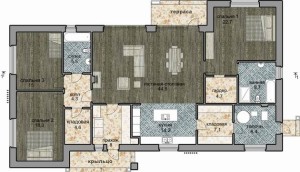 The house is organized through-hall – living room with two panoramic windows. Through this room runs a large part of the movement inside the house, it also includes the hall and living room with fireplace and dining room. The kitchen is adjacent to the dining room, but is in a "pocket" with a ventilation system, which cuts the spread of odors.
---
House section.
The height of buildings – from 2.8 to 3.0 m. The house has an attic space, suitable for engineering equipment. Basement or underground is abesnt, floor covers – on the ground.
---
Daugava River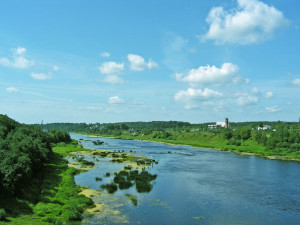 River Daugava (Western Dvina) – the big river, 1020 km; It flows through Russia, Belarus and Latvia.
The name "Daugava" is formed from two words drevnebaltskih, daug – «a lot» and ava – "water". Throughout history, the river had about 14 names: Dean, Wines, Tanair, Turun, Rodan, Dune, Eridanus, Dvina and others. Tribes Semigallians called it Samegalzaroy (Semigals-Ara, Zemgale water). As it was held in the ancient route "from the Vikings to the Greeks".
---