Project description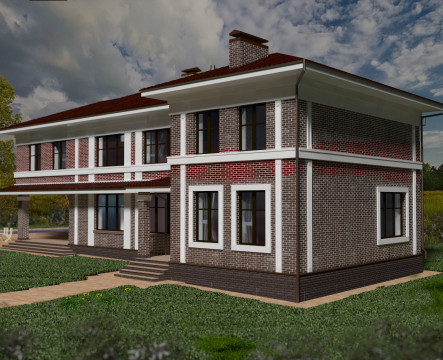 Floors:

2 and the ground floor

Total area:

495 sq. m.

Walls:

brick with insulation

Foundations:

prefabricated concrete

Structural design:

load-bearing walls

Chief project architect:

Vladimir Glazkov

2Leading architects:

Lidiya Antonenko

Chief Structural Designer:

Vladimir Sokolov

Vizualization:

Vladimir Glazkov
---
The project is developed on the basis of a third-party draft project. Plot for building is located in the Kiev region, on a flat terrain. On the territory also designed hozblok (garage, canopy and boiler room), the general plan of the site provides for the construction of a bath and a swimming pool.
ЗThe building is made by an elongated monoblock, which includes a dwelling house and two covered terraces (side and back). The room, which faces the side terrace, is equipped with sliding panoramic windows.
The style of the house is classical, with decorated facades.

---