Project description
Floors:

2 and the ground floor

Total area:

312 sq. m.

Walls:

brick with insulation

Foundations:

reinforced concrete pile

Structural design:

load-bearing walls

Chief project architect:

Vladimir Glazkov

2Leading architects:

Vladimir Nikischin, Nataly Sokolova

Chief Structural Designer:

Mikle Ryzhyk

Vizualization:

Vladimir Nikischin
---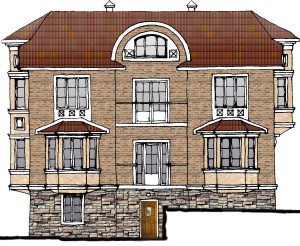 Two houses made of this project, located in Kiev, on landslide-prone slopes; The plot offers a view of the building Podola.Yadro house – staircase hall with a smoothly curved march. The house has two floors, ground floor and loft / mansardu.
Building elevations turned its panoramic windows towards Podol.
House style – classic, with decorated facades.
---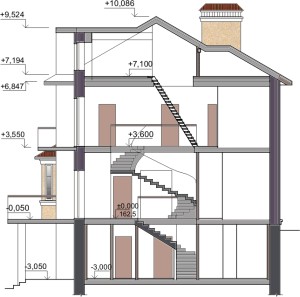 Like the other houses on the hillside, in the draft A1 ground floor can accommodate in the aboveground part of the living quarters and the rear (underground) – the service. As seen in cross-section, the walls of the ground floor at the rear of the house are completely underground (and therefore, working also as retaining), and the walls on the main facade open to the entire vysotu.
Attic has sufficient height to deploy a hardware engineering systems (heating and ventilation) and can easily be converted under the attic if desired (which was done on one of the two houses).